Trenchless Sewer Line Repair San Jose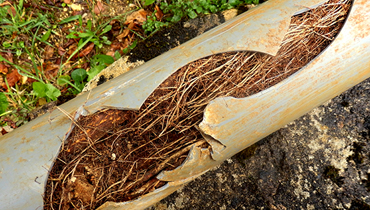 Do have a bad clog in your sewer line and are considering replacing it?
In the past that would mean ripping up your yard to dig the pipe out and replace it. Most plumbing companies only use this system to replace your sewer line, but not at Chandlers Plumbing. We do both traditional "dig" sewer replacements and when it makes more sense we can also do trenchless sewer replacements.
What is a trenchless sewer replacement?
It's exactly what it sounds like, we won't need to dig your old piping out. We can use the current tunnel the pipe sits in, to replace it with new piping. All while keeping your home and landscaping relatively undisturbed.
More often we use a system called Pipe Bursting, essentially a trenchless sewer placement uses a hydraulic head that pushes out and destroys the existing pipe while pulling your new pipe behind it. You use the same tunnel that exists around your current damaged pipe to create space for your new piping.
What does Trenchless Sewer Replacement mean to you?
Saves your landscaping– No more tearing up your yard, driveway or porch
Saves you money– Trenchless sewer replacement can save you money, especially if you have landscaping or flooring that may need to be replaced with a traditional sewer line replacement
Saves you time– Putting your yard back together can take a lot of time and effort on a traditional sewer line replacement
#1 Option for Trenchless Sewer Line Repair & Replacement in San Jose
At Chandlers Plumbing, we have become trusted experts in plumbing repair services as well as sewer line repair and replacement in San Jose, CA. We provide a reliable and professional plumbing service to all local San Jose CA customer. We are the local plumbers who will show up anytime you need us, all year round. We make sure that all of your sewer lines are running the way that they should all of the time.
We understand that things can get down into the sewer lines and the drains and can cause backups and clogs and we know how to efficiently get down there and repair those issues. Our plumbers are the best in the business and we can guarantee that we will get the job done right each and every time you hire our professional service. Our plumbing technicians are all licensed and bonded as well as professional trained and ready to handle any plumbing issue.
What is a Trenchless Sewer Line?
Your drain systems including your sewer lines operate from your home to your particular's street main. When problems occur, it can involve detailed repair, which can be stressful. At Chandlers Plumbing, we use conventional methods that don't destroy your lawn or any landscaping. Our cleaner and easier alternative helps repair trenchless sewer lines with ease. We achieve this by using a unique process that only our plumbing team is trained to perform.
Benefits to Trenchless Sewer Line Replacement
With this trenchless sewer line replacement in San Jose CA, two access holes are created by our professional plumbing team, one that is drilled inside or outside of and connects to the main sewer line directly and the other that is made along the edge of your property where the piping is connected to the main. This new process of replacing your sewer lines leads to a more affordable plumbing service. This is because older methods cost more as locating the source of the problem involves more labor.  
Trenchless Sewer Repair and Replacement in San Jose CA
At Chandlers Plumbing, we use the latest technology for sewer repairs and replacements. This process attaches a new sewer pipe to the back of a steel splitting head. This is achieved through the old piping in your home or commercial building. This new piping will split and expand to fill the old sewer piping. By sliding the pipe along the path of this old one, you don't need to dig up the entire pipeline to repair or remove or even repair this old sewer pipe. Talk about convenient!
Pipe Lining
One major benefit of pipe lining is the speed of the job and the convenience involved. This convenience means that when replacing a sewer line, the client doesn't have to have a second hole made. This new line is attached inside the existing one, which seals it from further blockages. This can lead to the pipe breaking or collapsing in the future. When dealing with sewer line repair in San Jose CA, our team at Chandlers Plumbing can evaluate your plumbing situation and offer you our professional opinion for repair or replacement.
Schedule Service Today!
With the professional help of Chandlers Plumbing, we can offer you an efficient sewer line repair or replacement service in San Jose CA. Our expert plumbing team services all San Jose and surrounding communities including Monte Sereno, Sunnyvale, Mountain View, Santa Clare, Morgan Hill, Saratoga and many cities with ease.
Our sewer line repair team answers the phone every day of the week to answer your questions and to schedule important consultations with our licensed plumbing team. Call us today at 408-449-3443 to schedule your trenchless sewer line repair in San Jose, California. We provide quality professional sewer line services with free estimates for your next plumbing project in your home or business. You can be assured knowing that our professional plumbing work is always backed by a 100% satisfaction guarantee.